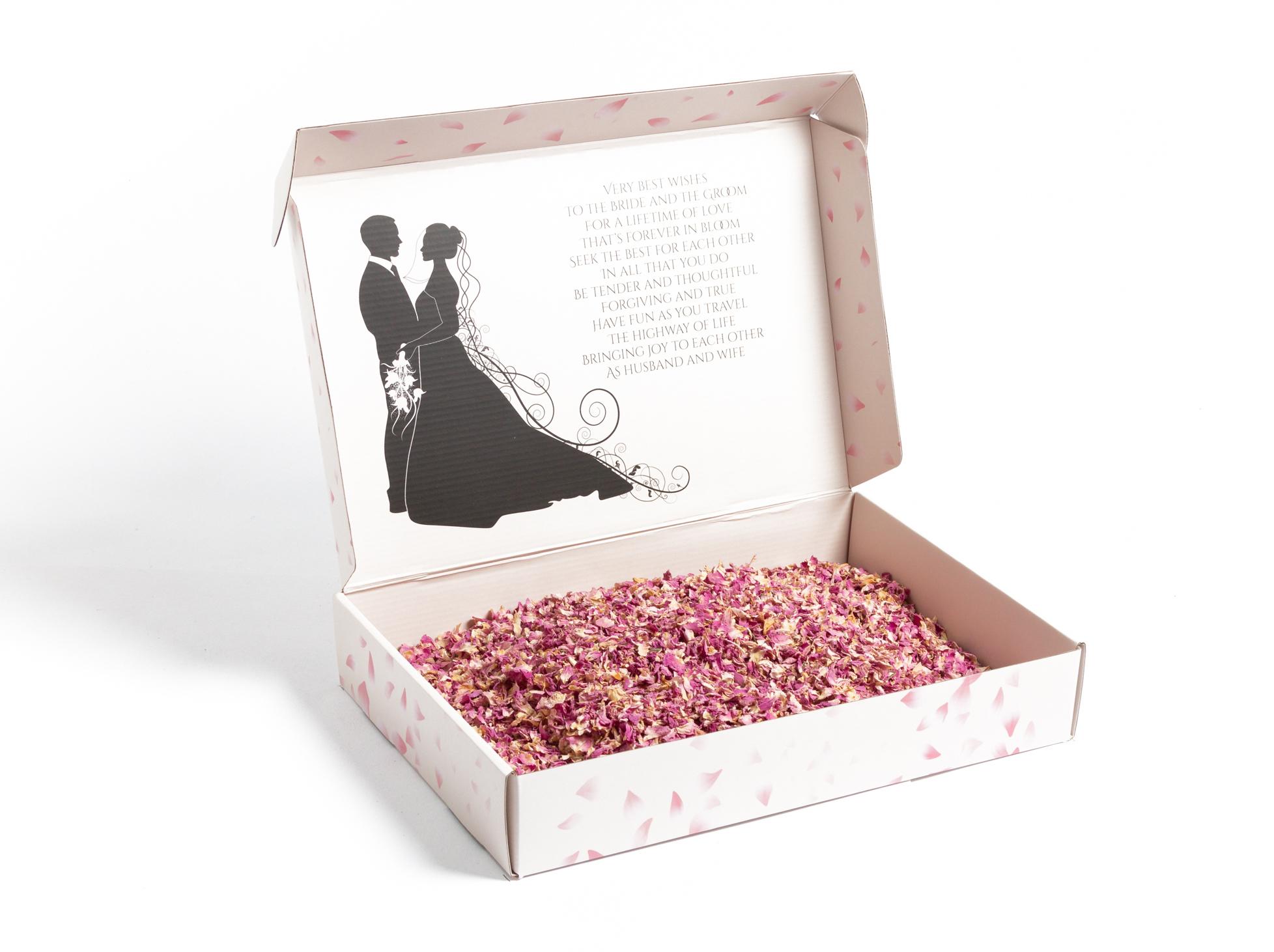 roll over the image to zoom in
2 LTRS DRIED ROSE PETAL WEDDING CONFETTI WITH KEEPSAKE BOX
Code
---
You will earn

0

reward points with this purchase
Product tabs
All our dried petals are 100% natural with no added perfumes or dyes. They're fully biodegradable making them eco-friendly wedding confetti that's widely accepted by churches, venues and registry offices. These beautiful fluttering petals make for stunning wedding photos, give an elegant feel as a table decoration and add a little bit of romance on Valentine's Day!
THE LOOSE CONFETTI KIT – Our unique dried petal wedding keepsake box with 2 litres of visually stunning & beautifully scented petals.
TO THROW OR NOT TO THROW? – As our petals are 100% biodegradable, they're perfect for church weddings, private venues & registry offices. Nothing says tradition like a shower from a flower for the wedding couple! So, the question really is……………. what colour shall I choose!
MORE THAN ENOUGH – Our keepsake wedding boxes come with a minimum of 160g of petals which is ample for 20/30 guest handfuls or more. Have some left over? Why not decorate the bridal room with a beautiful spray of petals? 
KEEPING YOUR PETALS PERFECT – Our petals are easy to store. Ensure that they are kept in their air tight bags, out of sunlight & away from moisture until you're ready to use. If kept airtight, moisture free & out of sunlight your petals can last up to a year.
VERSATILE USES – Dried petals are not just for weddings! These gorgeous tiny bundles of nature are perfect for a variety of craft projects, romantic gestures & are even edible!